Cruise tourism has become a major economic activity, this industry has hundreds of thousands of jobs either directly and indirectly in different countries, from boat design, construction, maintenance companies, the crew personnel at ports of call and cruise marketing companies. It is a market with high growth worldwide and there is a wide range in this market led to almost all economic levels and is expected that this growth trend will continue over the coming years. What was once a luxury only a privileged few is now becoming a very interesting possibility for the general public, which according to trends, preferences tilted towards the cruisers. In America, the cruise tourism represents a high percentage in terms of choice of the tourist, Europe's main market is UK, followed by Germany, France and Italy.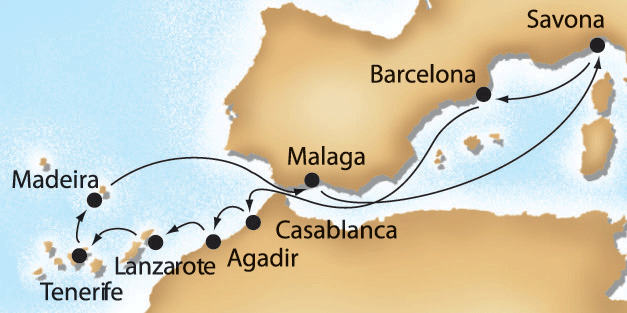 The places where this activity takes place are the United States and Canada, the Caribbean, South America, the Canaries, the Mediterranean, Norway and Iceland, Indian Ocean, Far East. The major routes are covered by the Mediterranean Sea cruise, last from 7 to 10 days and are held throughout the year. The North Sea and Baltic Sea, its main attractions being the Norwegian fjords and the midnight sun, cruise ships with a duration of 7 to 15 days.
The Caribbean, like the Mediterranean Sea is another major tourist destination and this is due to the benefits that this route offers tourists, such as warm weather all year round, beautiful islands and beaches, especially because of its proximity to the United States largest customer of these cruises. South America, a route that has no such demand. Patagonia and Antarctica are now fashionable cruises to the polar ice to reach the Strait of Magellan, Tierra del Fuego Beagle Channel.
Classification of cruises:
1. Small vessels: up to 10,000 tons
2. Ships medium: 10,000 tons to 40,000 tons
3. Big ships: 40,000 tons to over 100,000 tons
The speed of most of these cruise ships is between 19 and 25 knots. Its capabilities in passenger numbers range from 100 to more than 3,000 people.
Considerations that tourists should have to choose a cruise
Reservations:
Reservations are recommended well in advance to have a wider choice of ship, itinerary and best location in the cabin.
Joined the boat:
Should find out if the boat has more than 10 years and if it has been remodeled.
The choice of cabin: On ships built in the last 10 years the cabins are of similar size and arrangement, with the exception of luxury cabins, single or special disabled. Price differences are based on categories: inside (no window), and outer-or sea view (with window), and its location in lower or upper decks, closer to the center or at the ends (bow and stern). All cabins are usually found above the waterline. In the current cruise special assessment has been a greater comfort in the cabins, and a tendency to a greater number of these ocean views, balcony still largely denominated foreign luxury. It has also increased the number of suites, and between them are established differences in size and location, always in terms of convenience and comfort for passengers. It is convenient to choose a cabin as close as possible to the center of the vessel to neutralize the normal movements of navigation and in the oldest cruise, away from areas of potential noise, such as ballrooms, disco, machine room and elevators. The engine room is located in the stern of the boat on the lower deck.
The choice of shipping company
For tourists speaking is preferable to choose a Spanish company, or environment-minded and Spanish or Latin. Therefore it is desirable to take into account: the official language of the ship and / or others that are used, the nationality of the officers and crew and service personnel, as well as animators, both for children as for adults. The shows are usually musical and visual, so there is no language barrier that hinders the possibility to enjoy them. Regarding food, it is good to know the style of the cuisine of the company chosen, as their level of prestige. If you need special arrangements for meals should make this known at the time of engagement of the cruise, or as early as possible in case the need arises later.
Regardless of the above vessels are by their nature, travel, prestige of the company, high level services, etc.., Also make a cruise vacation is an unforgettable pleasure trip, but their environment is not completely in Spanish or Latin . Traveling with people from all over the world is rich, and the special atmosphere of the cruise facilitates contact and socialization.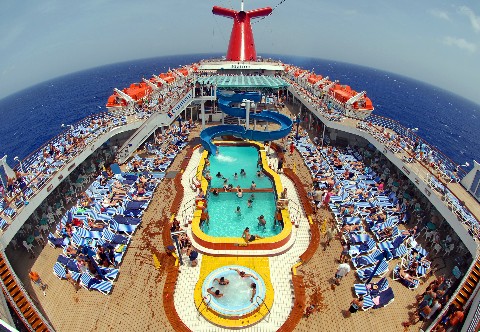 Bon voyage!
2 Responses to "The cruise and tourism"
Blog of Travel, webblogs of Tourism, Blogs Travel - Vacation … | antarcticas Says:
noviembre 8th, 2009 at 6:27 am

[…] katheworsley. Classification of cruises: 1. Small vessels: up to 10000 tons … More here: Blog of Travel, webblogs of Tourism, Blogs Travel – Vacation … Share and […]

Majorca hotels Says:
noviembre 9th, 2009 at 12:53 am

Cruise tourism is very good, totally good to relax.
Leave a Reply
You must be logged in to post a comment.