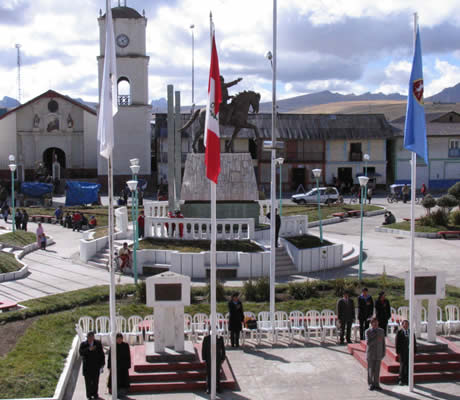 General Information:
Location:
The department of Junín is located in the heart of the Peruvian Andes. It has an area of 43,384 Km2 Huancayo is the capital at an altitude of 3249 masl
 
Climate:
13.12 º C (17 º C maximum temperature, minimum 0 ° C).
The rainy season is November to April and December to March in the tropics.
 
Paths of Huancayo
By land:
The recommended route is along the Central Highway from Lima to Huancayo and Ticlio (310 km), a 5 ½-hour drive across the Andes through the passage Anticona (Ticlio).
Attractions in the city of Huancayo:
Cathedral Church
It is a neoclassical style, which houses a collection of paintings from the Cuzco school.
Constitution Square
Located in the heart of the city, which was named after the Liberal Constitution of Cadiz. The square is decorated with a display of plants native to the mountains, like the broom and quishuar
Capilla de la Merced
Calle Real 100.
Visits: Monday to Sunday 9:00-12:00 and 15:00-18:30.
Considered a National Historic Monument.
 
Plaza Huamanmarca
Founded in 1572 to promote trade among the local natives, the fair is a crafts market, as well as industrial and agricultural products.
 
Park Identidad Huanca
District of San Antonio. This is where people pay homage to the most famous artists of the region.
Salesian Museum
Extension 105 Arequipa, Huancayo.
Visits: Monday to Friday 9:00-13:00, 15:00-17:00.
Located in the district of El Tambo, shows a great variety of fauna, especially in the central jungle, as well as archaeological artefacts, collections of coins and stamps, among others.
Artisan House
Corner of Royal Street and The Paseo Breña
A tourist center and craft with the best silverware, textiles, leather, carved gourds, wood carvings and other crafts (recommended).
Liberty Hill
Situated five minutes by bus, approximately 1 km east of Huancayo, at the end of the avenue Giraldez, this area is also known as the Mirador (lookout) for the splendid view of the city and the Mantaro Valley. There is entertainment and rides, a swimming pool and a small zoo.
Torre Torre
A geological area situated 1 km or 15 minutes walk from Liberty Hill. Rain and wind have formed 10 to 30 meters tall towers of stone in this area, hence its name. It offers a wonderful view of the Mantaro Valley.
 
Outskirts of the city:
Ingenio
Located 28 km northeast of Huancayo, about 35 minutes drive along the valley known as Blue. In this area there are trout farms, restaurants and sites suitable for camping.
Sicaya
Located 8 km northeast of Huancayo, about 20 minutes by car. One attraction is that the church was declared a National Historic Monument, the famous baroque carved wooden altars and paintings of the eighteenth century.
 
Warivilca Sanctuary
Ancient Wari Empire of the sanctuary, located 6 km south of Huancayo in Annex Wari, 20 minutes by car. This archaeological complex was built between 800 and 1200 AD. It was discovered at 1.935. The temple is one of the known structures. There is a museum on the site.
Laguna Ñahuimpuquio
Ahuac located in the district 15 km from Huancayo, surrounded by beautiful landscapes.
Huaytapallana
Located 25 km from Huancayo, it takes two hours to drive there and 30 minutes to climb to 5200 m. high mountains with snow. This is a popular area for adventure sports.
Folklore:
The area is known for its variety of native dances, the most important Huaylarsh, Chonguinada, Huaconada, Shapis, Santiago, Chinchilpos, Gamonal and Avelino. The most popular festivals are called cortamontes or Yünsa.
Crafts:
Pumpkin carving, embroidery, pottery and silverware, and wood carvings, woven sashes, straw furniture, tapestries, among others.
 
Gastronomy of Peru
Typical dishes:
Sheep's head soup
Yaku suck (potato soup with a bone stock, cheese and herbs).
Suck Huallca (chicken broth with vegetables and noodles).
Mondongo broth (soup made from offal, offal and mint).
Patachi (wheat soup with vegetables, bacon and meat)
Pachamanca (various kinds of meat, potatoes and tender corn covered with aromatic herbs and cooked underground between hot stones in a pre-Hispanic style).
Chicharron colorado (pork fried in its own fat)
Lamb (whole lamb cooked on coals).
Festivals:
Semana Santa en Tarma (March / April)
Liturgical ceremonies and processions. At this time of year, traditional carpet of flowers covering the city streets.
Fiesta de las Cruces (May)
Processions, dances and sample regional dishes
Discover geography, customs, peruvian food, literature, folklore, handicrafts, ceramics, tourism and many other things about the wonderful diversity of Peru.
No related posts.
Leave a Reply