Since Chile has great geographic faults and high geothermal activity has numerous hot springs, which makes it one of the options to visit and rural tourism, these emanations from simple warm up geysers of boiling water which are exploited as tourist resort which has been implemented from simple to elegant spa facilities five-star spa resorts.
These facilities are located in beautiful natural environments in arid landscapes, rainforests, mountain, seaside, in the highlands. The water from these springs has healing properties ideal for an enviable physical and mental health.
The most prominent sources in the country are:
The hot spring of Pozo Almonte, located 125 kilometers from Iquique and 73 km from the town of Pozo Almonte, is located on the top of a beautiful valley, its thermal waters reach 57 º C, has several hot springs and plant tubs, pools and mud baths, also has special accommodation and facilities.
Los Géiseres del Tatio, are located northeast of Atacama, is a source of thermal water with temperatures ranging from 25 º to 33 º C, has a pool of eight meters in diameter with sulfated hypothermic waters, and bathing facilities and dressing rooms.
Thermas of Soco, located 30 kilometers southeast of Ovalle, the waters of this seaside resort known for being rich in sodium, bromine, magnesium and iodine, the water temperature is 27 degrees C, with thermal swimming pool, tubs, sauna and jacuzzi.
Thermas del Corazón, located 87 kilometers from Santiago, the place can be visited all year round, thanks to its dry climate typical of the foothills of the Andes, with thermal pools, a Jacuzzi and spa, its water flow from the rock at a temperature of 21 º C.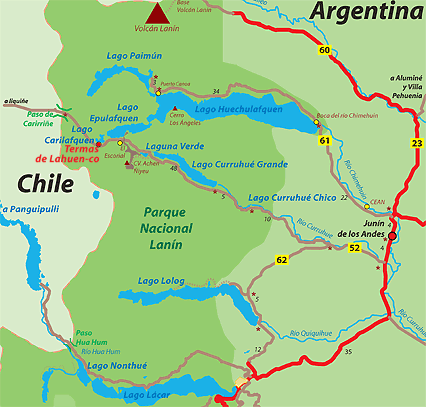 The Baths of Jahuel, is located 98 kilometers from Santiago, the temperature of its thermal waters reach 22 º C, with mud baths, steam baths and natural hot springs pools.
The Baths of Panimávida, located 69 kilometers southwest of Talca, has thermal baths, underwater massage, mud baths, an outdoor pool, two indoor pools, spa and lounges medicinal water, the water temperature reaches 32 º C.
The Baths of Quinamávida, located in the foothills of Talca 69 kilometers, it is a hotel where there are large parks, native forests and hot springs, the water temperature is 18 º and 27 º C, has heated pool, steam room, and you can take walks, aquatic exercise, among other activities.
Thermas of Catillo, located 25 miles southeast of Parral, its waters have a temperature between 31 to 33 º C, open from December to Easter holiday.
Thermas de Valle Hermoso, located in the area of Chillan trema has three outdoor thermal pools with a temperature of 30 º C, has camping areas, locker rooms and restrooms.
Thermas of Chillan, located 82 km from Chillán, its waters reach temperatures of up to 60 º C, it offers tourists thalassotherapy programs aromatherapy, hydrotherapy, massages and mud therapy.
The Baths of Tolhuaca, located 33 km from Curacautín, whose primary source springs from three geysers at a temperature of 96 º C, has a thermal pool, whirlpool, four individual baths, two family pools, jacuzzi and bathrooms collective mud.
The Baths of Malalcahuello, located 120 km from Temuco, the water temperature reaches 40 º C, has indoor thermal pool, hydromassage beds, Jacuzzi and waterfall swim against the current system. Offering services such as hotel, restaurant and cabins.
The Baths of Huife, is located 33 kilometers from Pucón Liucura riverside, has three outdoor pools at different temperatures, semi covered pool, whirlpool, bubble bed and swim against the current system, its thermal waters reach temperatures between 38 to 40 º C.
If you want to travel friend back to health so relax or alone, the different thermal center of Chile are a good choice for visiting!.
Related posts:
Leave a Reply