Amsterdam is difficult to contemplate. The absence of high places in his term that the visitor do not have benchmarks and more often end up lost in this wonderful network of canals and buildings of the seventeenth century, which, more than an inconvenience, it's a pleasure.
There is much talk of the Dutch bikes with good reason: in Amsterdam are the means of transport par excellence. Used even when it rains, the bikes have absolute priority over motor vehicles on streets, squares and crosses and get preference over the pedestrian! if he dares to use the bike lane and sidewalk ordinary. The bike here is a practical element of everyday life and also a symbol of Dutch life and thus of Amsterdam you can live without making noise, you can move without polluting.
Despite the fact that Amsterdam is usually a city almost permanently cloudy, rainy and very cold enough, the Dutch have always known that time to fight the devil with a burst of color. The flowers are abundant everywhere, the open-air markets are numerous, offering the very strange and a symphony of green, purple or yellow, bright, almost phosphorescent apples and carrots: the markets in Amsterdam are almost claim a vital, rather than a place of commerce. This attachment to the colors is also reflected in the windows of Dutch houses. The curtains are rare, and the Dutch took pains to decorate windows, and planters with alféizares mobile grinders colors, dies and drawings printed notes of joy and creativity in the days of abundant rain and cold. Traveler, traveling, going for long hours in coffee shops and watching entretente windows of Amsterdam, you learn a lot from the Dutch in style.
Many people go to Amsterdam in search of coffee shops, establishments is allowed where the sale of certain derivatives of marijuana. There are beautiful views over the canals and fitted with elaborate letters to customers more gourmet. For those who do not prefer these adventures, clarify that it also serves excellent tea and tea in many varieties.
But let's highest pleasures, such as those offered by the varied selection of museums in the city. Can not visit Amsterdam without visiting the Rijksmuseum and you can not visit the Rijksmuseum without being amazed at the wonderful nocturnal Rembrandt's teacher, or the delicate and small oil paintings of Vermeer (attention, here is pronounced "Firmaá). Nor can we fail to come to the Van Gogh museum, which cover a few inches from the nose of the cloth "crazy red hair" can put meat chicken.
With so many emotions that we want to make sure a lunch break, so it is best dropped by some of the restaurants of all kinds abound in the center. There is something for everyone's taste: Indians, Pakistanis, Chinese, Kurdish, Japanese, Indonesian, Greek, Turkish, Italian, Italians brought by Indians, Italians brought by Turks … The offer is as varied as is the wonderful fauna of human Amsterdam. If we look for something with flavor Dutch, it is best to visit a brewery, the natives are experts in this ferment of barley with the hops.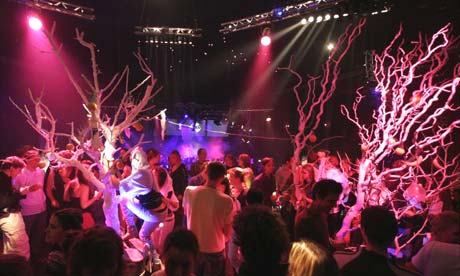 Night and probably cold, so it will be desirable to seek some local live music and get carried away by the friendly local. The famous red light district of Amsterdam, formerly Dutch heart of the night, is a striking place.
Currently the number of clubs is very high interest in them and perhaps we can listen to those who are the future or the next Massive Attack Within Temptation.
Amsterdam free guide on cultural activities
Amstel Botel, a floating hotel in central Amsterdam
Related posts:
One Response to "Amsterdam, the liberal city"
Cavernas de Venado Says:
mayo 16th, 2009 at 2:57 am

Welcome Amsterdam Visitors, we had the pleasure to receive Visitors from amsterdam and they talk a lot of wonderful things about their city. We´d like to visit and enjoy ourself this wonderfull City.
We invite to all people come To Costa Rica and talk about their cities and know a little bit of our country.
Leave a Reply