The Santiago Metro is fast, clean and safe, it has nothing to envy to other similar systems in the world. Use modern French trains. The network currently has five lines and is in constant process of expansion. Line 1 runs east – west axis under the Alameda Avenues – Providencia – Apoquindo covering the center and Providencia and Las Condes.
At stations Heroes (line 2), Baquedano (line 5) and Tobalaba (line 4), can switch to any of the other three lines connecting the north, south and west by the center. The ticket is worth $ 0.8 Line 1 is the most you should use, and connecting the center of Santiago and Providencia and Las Condes. The other lines go to residential areas. We recommend purchasing a prepaid card or Multivía Bip. The ticket also allows transfer to urban buses without additional charge as a way to optimize travel times, in several lines has implemented a system of routes, timetables for increased congestion. 07:00 09:00 hrs. and 18:00 to 21:00 hrs. In these times, there are trains that only stop at stations of the Parkway and other trains only stop at stations on the red route. In addition, there are stations on both routes, which serve for the passengers to make transfers, if needed.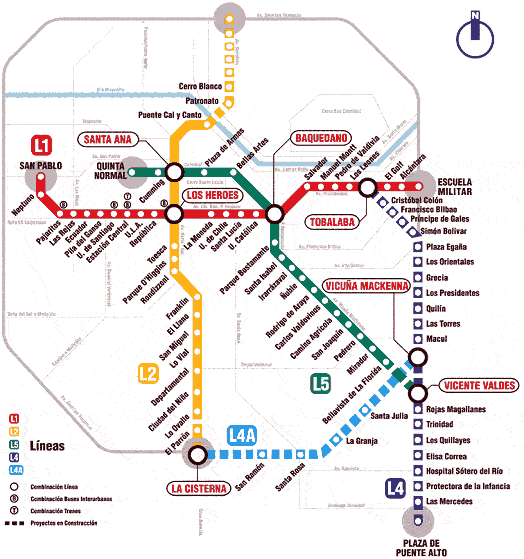 Hours: Monday to Friday from 6:00 to 23:00 pm Saturdays from 6:30 to 22:30 hours and on Sundays and holidays from 8:00 to 22:30 hours. The latest from Sao Paulo to address Military school departs at 22.42 hours, as does the train from military school in San Pablo. Both trains are at 23.05 about the heroes. The last train from Bellavista Quinta Normal to Florida leaves at 22.57 hours, arrive at 2305 hours at Baquedano and Bellavista La Florida at 2310 hours, approximately.
Station Line 1: St. Paul, Neptune, Pajaritos, Las Rejas, Ecuador, Alberto Hurtado, Universidad de Santiago, Estación Central, ULA, Republic, Los Héroes, La Moneda, University of Chile, Saint Lucia, Catholic University, Baquedano, Salvador, Manuel Montt, Pedro de Valdivia, Los Leones, Tobalaba, El Golf, Alcántara, Military School Station Line 2: Vespucio Norte, Sappers, Dorsal, Einstein, Cemetery, Cerro Blanco, Patronato, Puente Cal y Canto, Santa Ana, Los Heroes, Toesca, Park Ohiggins, Rondozzoni, Franklin, El Llano, San Miguel, The Road, State, City of Children, Lo Ovalle, El Parron, La Cisterna Station Line 5: Quinta Normal, Cumming, Santa Ana, Plaza de Armas, Fine Arts , Baquedano, Parque Bustamante, Santa Isabel, Irarrazaval, Ñuble Rodrigo de Araya, Carlos Valdovinos, Agricultural Way, San Joaquin Pedrero, Mirador, Bellavista de la Florida, Vicente Valdés. Station Line 4: Tobalaba, Christopher Columbus, Francisco Bilbao, Prince of Wales, Simon Bolivar, Plaza Egaña, The East, Greece, The Presidents, Quilín, The Towers, Macul, Vicuña Mackenna, Vicente Valdes Rojas Magallanes, Trinidad, Los Quillayes Eliza Correa, Hospital Sotero del Rio, the Protection of Children, Las Mercedes, Plaza Puente Alto Station Line 4A: Vicuña Mackenna, Santa Julia, La Granja, Santa Rosa, San Ramon, La Cisterna.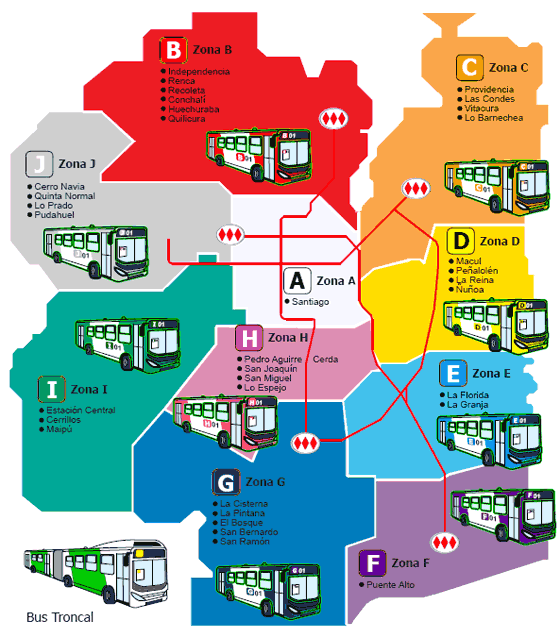 Good Luck!
Related posts:
One Response to "The Metro de Santiago de Chile: A guide for tourists"
Formalities at the airport in Santiago, Chile Says:
marzo 17th, 2012 at 3:33 pm

[...] formalities at the airport in Santiago of Chile, is the most important thing to know before arriving at the airport in Santiago, Chile, to avoid [...]
Leave a Reply