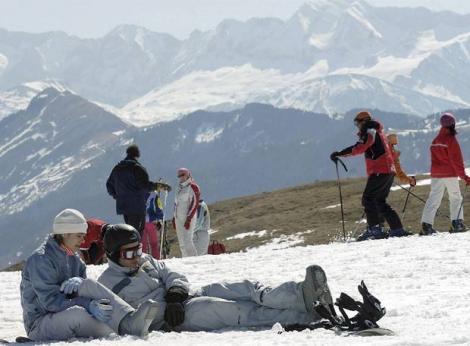 Formigal is a locality in the municipality of Sallent de Gallego in the region of Alto Gallego. Headquarters of the winter season with the same name where the lovers to the sport are a perfect setting for skiing.
Since its tracks can be viewed wide and suggestive panoramic views. Specifically, from the top of three men can see great peaks of the Pyrenees Central: Midi d'Ossau, Balaitus, Argualas Peaks, Peaks of Hell Ferraturas and Baladrías in an impressive mountain range. Urbanización Formigal, in the Tena Valley, is located 1,550 meters above sea level, at the foot of the ski resort of Formigal Aramón and a few kilometers from the French border from El Portalet.
Formigal presents an excellent host and tour service that attempts to satisfy the large audience demand sports and leisure facilities: outdoor heated pool (in July and August). Tennis Courts. Fronton. 2 Rockodromes. Play area for children. Multi-covered garden with space for games. Field archery.
Activities:
The other sports such as canyoning, paragliding and various water activities, is possible thanks to the varied terrain clearance. To this we must unite him over Pyrenees Path GR 11 approaching the highest peaks of the Pyrenees as Anayet Pico Pena Foratata, Argualas or peaks of Hell. Just as the mountain lakes Anayet, Respumoso, Bachimaña or Blue.
Major international center for skiing and snow sports in winter and mountain resort in summer has a great array of sporting activities and organized excursions. Formigal has an area of cottages at the top, model of its kind, a hotel zone, apartments and group homes are complemented by bars, restaurants and shops of all.
Trips & Walks:
Among the most common excursions and tours highlight the GR-11 to Sallent de Gallego. GR-11 to Candanchú (by Canal Roya). GR-11 to Canfranc (by Channel Izas). PR.HU.90. Collado de Foratata.
Architectural Path:
Romanesque church (XI s). The streets were deserted church stands the village of Basarán, XI century Romanesque work that begins to enter into the Romance language that we see in many other buildings in the district. It has culminated in two ships respective external semicircular apses decorated with arches and pretty long with lesen friezes on the upper ribs. Several openings in the form of loophole dimly lit interior. The church tower is completed later added to the style and likeness of Lárrede
Built in the eleventh century, belongs to a group of churches Serrablo, unique in Spain, having been enriched with interesting artistic elements: XII century font from Ruesta, vendita sink Cillas XVII century, a painting of transition between Romanesque and Gothic of the fourteenth century brought from the chapel of Romanesque Crismon Basarán and incorporated into the eardrum.
Informaciónd Interest:
Nearby Towns to Visit:
Broto
Panticosa
Sallent de Gallego
Torla
Recommended Accommodation:
Restaurant Sorrosal, Broto
Restaurant El Duende, Torla
Apartment House Buisán, Broto
Firs Hotel, Torla
See you tomorrow…
Related posts:
Leave a Reply