This is a ski resort, located in the heart of the Pyrenees, located in the region of Val d'Aran, in the province of Lleida. It has heights ranging between 1,500 up to 2510 meters, skiing in Baqueira is classified in three broad ranges: Baqueira, in the center, Beret, north and closer to neighboring France and Bonaigua, south, whose access approaches Pallars Sobirá station.
Baqueira – Beret is 108 km of marked pistes, and this is why the second-largest winter resort in reference to extension of Spain for what lies behind the station Aramón Huesca Pyrenees Formigal. It is located in the higher parts of the regions of Valle d'Aran, and Pallars Sobirá. It is currently in an expansion process that is oriented towards the Pallars Sobirá, which is proving somewhat controversial. Importantly, Baqueira-Beret is large and open tracks, but in turn also tracks that run between trees. This station is separated into three distinct areas: Baqueira, Beret and Bonaigua.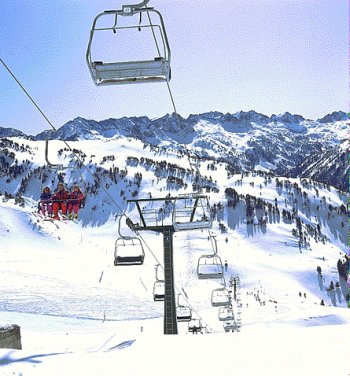 This station has an Atlantic orientation and therefore available throughout the season of rich rainfall and low temperatures, this ensures great snow depths. This quality of environment along its length, and its more than 1 thousand meters of vertical drop, with its renovated facilities and comfortable services, makes it one of the most rated resorts in Spain.
Track between the Pyrenees:
In the region of the Aran Valley and in the Sobirá Pallars is has a beautiful nature in which some 50 are enclosed in small rural towns of traditional urbanism, which are today in the use of stone and wood for construction. Among the buildings are numerous Romanesque churches that form a valuable artistic heritage. The arrival of Alpine skiing at Baqueira originates near the 60 with the initiative of local authorities in the Aran Valley. This ski center can offer all services that are common in the best tracks, ski school, equipment rental, restaurants, cafes, health insurance, among others. Also features tracks and a very complete choice of hotels and lodging houses, and ice rink facilities, heated pool and sports shops. The gastronomic offer is worthy of note as there are many restaurants in this tourist area, who are part of tradition of French cuisine with the best quality local specialties.
It is possible to rent equipment there. This includes all forms of skiing and snowboarding as it features the latest in reference to these products. Furthermore, it has a ski storage service to the ski resort located in different areas of the station. Nor are there limits to accessories and clothing for skiing or simply souvenirs of the season. In the posts entitled "Attention to the material" can receive free care in the supervision of contracted material and advice in the adjustment and condition thereof to find and ensure safety.
Core Baqueira 1500:
Located below the offices of Baqueira, has facilities in ski and snowboard rentals, ski storage, repair and attention to the material.
Hotel Montarto (core 1500): Here you can access the ski and snowboard hire, sale of accessories, repair and attention to the material.
Core Beret 1850: It is situated at the foot of the runway, next to the cafeteria Audeth. It has ski rental alpine, Nordic and snowboarding, sledding and snowshoeing children. In addition to his repair shop, ski storage, convenience on the sale of accessories and attention to the material.
Wood Core 1800: It is against the Forest cafe, there are store skis, luggage, sale of accessories and attention to the material.
Core Bonaigua 2072: At the core of Bonaigua services. It has ski rental and snowbear, repair, sale of accessories. and attention to the material.
At this location may enjoy 3 playgrounds on the slopes. They are: Baqueira 1800, against the chairlift Forest, Beret, compared with the control tower and Bonaigua next to Bonaigua service core.
The international airports closest characters to Baqueira Beret are: In France, Toulouse, 160 km. In Spain: Barcelona and Zaragoza 330 km to 260 km.
It is always advisable to book ski lessons, especially on dates requested.
Related posts:
Leave a Reply