With 45 hectares of green space, trees and lakes, a great restaurant in the center, plus food stalls and cafes. The city of Amsterdam, has opened a museum devoted to film. Not only is a perfect place to breathe nature and organize a picnic between squirrels that run around, but also offers in June, July and August, plays and free outdoor concerts.
But aside from the museums and places is a far more modest attraction that almost every tourist wants to see in Amsterdam, beyond consumer than what is sold there: the coffee shops. Almost an emblem of the city, far from being a simple coffee house, these bars offer a menu that includes marijuana mixed with snuff for 3 euros and 6 euros smoking a cigar, or chocolate and cannabis brownies with coffee, which costs 5 euros. Some have tables in the room only, others also fit on the sidewalks. Only allowed entry to over 18 years.
Small local warehouse-style neighborhood line up one after another in the center and along a few blocks. And are filled with tourists of all ages, including couples with babies. What do you offer? For example, packages of 150 grams of coconut and hemp cookies for 10 euros a hash lollipops euro cannabis green tea or other beverages made with magic mushrooms …
The minutes pass and discover the most unusual items in accessories for smokers of all types of herbs and some young salesman distracted father warns that the child took the sweet wrong. Other businesses are authentic seed banks with names like Bob Marley's Best, Flower Power, Purple Haze and even AK-47 Master Kush. Perhaps we emphasize: the circuit of coffee shops is a real curiosity, beyond the consumption habits of tourists …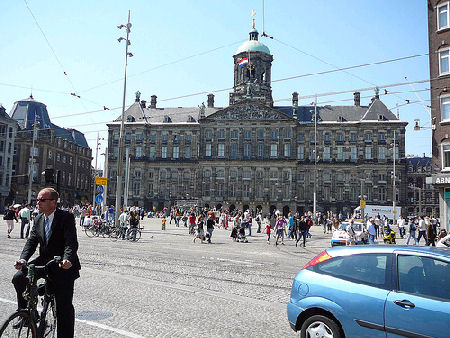 The same applies to another very famous area of the city: Red Light District. Many know what it is and almost everyone is aware of this place, even those who never traveled to this city. For this reason and because here we have concentrated most famous stained glass windows, full of expectations to tourists.
Between two narrow streets facing the canal to skirt Voorburgwal, a sex shop is a mix of a beer bar, a family dwelling, the entrance to Chinatown, which runs parallel to this place and what follows: a window that, Unlike any local clothing, displays a real woman wearing underwear, talking on cell phones or smoking while waiting for one to open his door.
About Achterburgwal channel and in the streets that cross it, those buildings that seem simple homes or businesses are the same windows that stretch for this particular neighborhood, which covers no more than five blocks, and that does not appear delimited by city maps.
At night, this ride could pass unnoticed in the light of day is closed to traffic and becomes a very busy pedestrian red zone, with its neon lights that line the shelves of these human mannequins. Its streets are enlivened by the characteristic color and the amount of people that visit and the walk day and night. Usually when it gets dark get a lot of men's groups in plan bachelor party. And while curiosity kept us a good time in the corners, it is easy to see a person coming to these windows. Yes, many times they are closed curtains, a sign that they are working.
Arts, festivals and good meat: For channels
Rent a pedal boat or eating at a floating restaurant are just two options to enjoy the canals. But as convener in times of warmth are the outdoor cafes on the water timber, including Villa Zeezicht and Café van Zuylen, close to the bridge Torensluis. There are celebrations that are performed directly in the channels. The greatest of these festivals is in honor of the birthday of Queen: The Queen's Day is on April 30.
Royal Palace:
With four quarters never qualified for tourism and one of the world's largest collections of imperial furniture, the Royal Palace reopened its doors after more than three years of renovations. In Dam Square also offers great improvements in its interior. The paintings of the ceiling, marble floors and sculptures were mostly restored, like many of the frescoes of the XVII and XVIII. Admission for adults is 7.50 and children under 5 are free.
Where to buy?
Interestingly, for those who want a souvenir of your vacation: shops that are located on streets that cross the Red Light District are offering the lowest prices in all that relates to souvenirs. So maybe it's better not to be tempted in the business of the Damrak street or around the Dam Square and wait to get those located in this area.
Bon voyage the city of Amsterdam!
Related posts:
Leave a Reply