Located in Quebec, Canada, the beautiful city of Montreal could be described as the perfect synthesis of island landscapes, friendly and educated population, culture, film and jazz, modern architecture and cobblestone, harbors and mountains, nature-filled day and night full of magic.
Photography by Peter Shanks
Montreal offers every year about 80 festivals and events, among which are: the famous International Jazz Festival, the Grand Prix of Canada, the Night of Museums, the Telescope Show, the IglooFest, the Festival Voix d'Amériques and the list goes on, confirming that it is impossible to get bored in this city.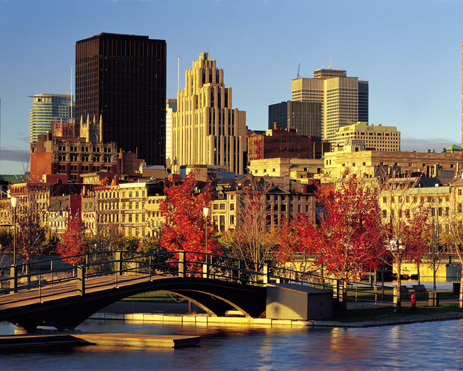 Photography by Peter Shanks
Some sites a must in Montreal, for its beauty and historical value are:
Latin Quarter
Located near the University of Quebec, brings together young people and intellectuals who love art, literature and cultural activities.
Gay Village
Montreal is one of the cities of the world's most gay scene, in fact its Gay Pride Parade is one of the most important, after the Parade of Toronto. This neighborhood has hotels, restaurants, bars and clubs created for the gay community.
Plateau Mont Royal
This is another cultural districts of the city, is frequented by artists and which has the strong presence of theaters, cinemas and trendy.
Underground city
It is a network of galleries, museums, restaurants and hotels, which goes under the city of Montreal and covers about 35 kilometers.
Chinatown
You only need a change of scenery to notice that you just entered Chinatown, filled with the aromas, colors, roofs, and food items of that Asian country.
Bernard Street
It is a residential and business customers, which features an elegant architecture where are located numerous bars and restaurants.
Science Center IMAX-TELUS
This is one of the most incredible theater town, where films are projected on giant screens and audio capacity of 10,000 watts.
Canadian Cuisine
To enjoy the city of Montreal to the palate, the cuisine of Canada provides some interesting recipes such as beef pie, chicken paprika, soup, sausages, potatoes and spinach, pear salad and black bean burritos, among other.
Photography by lyricsart
Hotels in Montreal:
If you're looking to relax during your stay, some luxurious options are:
Hotel Le Relais Lyonnais
This is a design hotel in the Latin Quarter of Montreal, whose building has nearly 130 years and is able to keep intact its style and detail. Le Relais Lyonnais is near the best theaters and cinemas in the city and offers visitors luxury rooms and executive suites with all amenities to make your stay a unique moment. The restaurant offers French-Canadian cuisine.
Hotel Le St – James
The site par excellence of celebrities gives way to a fantastic world where talk of near-luxury and elegance is an understatement. The beautiful building of Le St James, dates from 1870 and offers 60 beautiful rooms with some amenities like linens from Italy, marble bathrooms, library and high technology.
Photography by Peter Shanks
Bon voyage!
Leave a Reply
You must be logged in to post a comment.