When one wants to make a trip automatically think of the budget would be needed to achieve it. Is often associated (wrongly) an exact proportionality between distance and cost, this would, for example, a trip from America to Europe or vice versa is impossible in times of crisis. But we have a very good news, this happens because of the lack of information about the trip to perform as desired using and exploiting resources and opting for other much cheaper alternatives.
Europe is a continent of great tourist attraction, has very rich culturally cities as well as landscapes and views that you cannot stop staring. Many are young people who feel that these destinations are unreachable by imagining that the prices are unaffordable, however, there are affordable options that enable longed to know these destinations. If you thought you could not recommend you to read the note and change your mind.
A very good option to undertake the journey is to do as backpacking. During the European summer is a good season to make friends, young people with backpacks are everywhere, are often made events, concerts and European cities are filled with teenage travelers. This time is ideal to go to the Mediterranean but you also suggest other fun places such as Naples or Valencia. There are many hotels where tourists often make their stops for little money and make friends with other groups that are in the same situation, is experience can be very rewarding at the exchange with different cultures.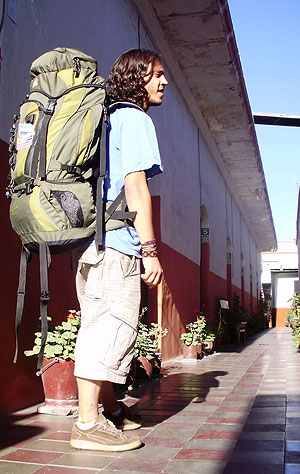 A helpful tip to take into account and that the trip is much cheaper to do so in groups, and they enjoy regarding tickets to museums, theaters, nightclubs, train tickets and above all in the housing. Most hotels usually do and put together a package price for quantity. These issues can be consulted even before going into the travel agency. Another benefit is available as a student or teacher and discounts that are made in these cases. On the other hand, we must learn to take free tickets as in the Louvre in Paris the entrance is free every third Sunday each month.
Finally, it is very important because the airfare with proper planning can reduce costs. The sooner you do the cheaper airline reservations will be like the first hotel you arrive. Then it can be to improvise once you continue with the tour but it is essential to have secured the first night. And in regard to money, we must take into account such change traveler's checks in places other than tourism because there the cost is much higher. And of course bring up a few dollars for any eventuality.
It is important to note that one of the strongest supporters will have a travel agency input as it is possible  raise the budget that packages available and is made very well adjusted to advise you to be able to go places and plan strategic better your trip. Surely Europeans to visit America may find it very affordable because it favors change significantly. That is why nothing better to take this opportunity to travel.
With respect to South America, there are places like the incredible Machu Picchu, considered one of the wonders of the world, in Peru, the same can be combined with Galapagos in Ecuador and Chile. This option besides that surely will be very attractive by the mystique and history of the place is a good choice for trekking. What you can make in 4 days of trekking through valleys and forests, and costs in this case are low. The entry to be paid to National Institute of Culture for entering the Inca Trail and everything needed for the camp where they can meet up to 15 people (which are accompanied with a guide) totaling around 300 U $ S per person.
Other attractive that we recommend are the Iguazu Falls in Misiones and El Calafate, Santa Cruz, both in Argentina. Either option is a high visual impact in relation to the landscape. The first option rather more economical, which get very affordable accommodations and tickets to the parks are of low value, in this case is the Brazilian border where we met Foz do Iguazu. If you opt for the latter, costs are often substantially higher than at present because there is a lot of tourism and is an area that is booming. We cannot mention in Brazil Rio de Janeiro or Salvador de Bahia, where spectacular beaches that are worth knowing.
In North America and Central America there are many places to go, from New York City versatile where you can go from a museum like the Metropolitan to make an evening out to San Francisco is a place where many young people go, hippie, many college students. In regard to Central America is highly recommended to Cuba very attractive because of its history, its culture as well as its beaches and exuberant nature.
So already know, is possible travel and go anywhere you want by low-cost all you need is to inform, organize and learn to choose alternatives that allow you to adjust to your budget.
Traveling with little money (Part II)
Related posts:
One Response to "Traveling with little money (Part I)"
Traveling with little money (Part II) Says:
marzo 18th, 2012 at 4:09 am

[...] Traveling with little money (Part I) [...]
Leave a Reply