Rio Branco is the capital of Acre, was named in honor of José Maria da Silva Paranhos, Baron Rio Branco, who, with his diplomacy, he managed to resolve the dispute over the territory between Brazil and Bolivia and the annexation of Brazil in 1903, when he was Foreign Minister. Is divided by the Acre River, and boasts the title "Capital of Nature", is the gateway to use green forms of tourism, is surrounded by trees and serigais Brown. An area protected by large predators, and pollution; Rio Branco is a very peculiar, not only by the mixture of its people, their beliefs and customs, but also for its architecture, which blends ancient and modern was reflected in squares, museums, palaces and parks.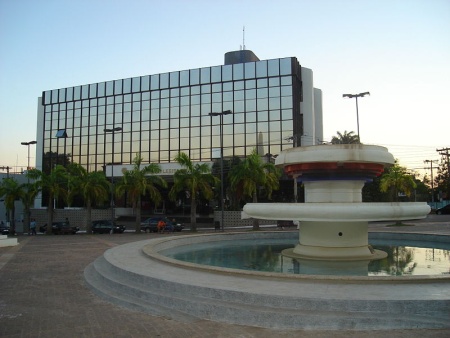 One of the impressions that are saved after a visit to the State of Acre is that almost everything is done. And yet, in this region, considered one of the most remote parts of Brazil, there were events that have influenced human history. Acre's history since its origin is linked to the violent and romantic history of rubber, then sought input that led to huge foreign and domestic fortunes.
The region of the rubber tree, which is characterized by large areas of forest preserve wild rivers and river sand and fine clear.
Places to visit:
N. S. Cathedral of Nazareth
Iglesia de Ferro
Palacio Rio Branco
Jurua Valley
Zoo Botanical Park
Inside the university campus (UFAC). Is the habitat of several species of tropical flora and fauna. Reserve an area of virgin forest where it is possible to know the location of siringales and rubber production.
The park raises a number of plants and trees representing the flora of Acre. There are botanical studies, the extraction and reproduction of native species essences.
It is a nice place to walk and the area covered by vegetation and picturesque landscapes that nature offers us kindly.
Transportation:
Air:
International Airport of Rio Branco
TEL: (68) 211-1003 / 1110/5479
Several airlines fly to the city of Rio Branco including GOL, TAM, RICO.
Road:
Terminal de Autobuses Rio Branco
Intercity Transportation and Inter Departmental
Tickets Acailandia
Calle Ramos Coelho, 134, New Chain
Rio Branco – Acre
Transportation Company acreana
Avenida Castelo Branco 33, Centro
Senator Guiomard – Acre
Cascavel Eucatur Union Company
Andira New Street, 4, New Chain
Rio Branco – Acre
Real Del Norte
Street Floriano Peixoto, 1135, Center
Rio Branco – Acre
Tourist information:
Tourist Service Center – CAT
Avenida Getúlio Vargas, 91 – Plaza de los Pueblos del Bosque – Downtown (Old City Bar).
History:
Acre remote wilderness of the city, the area remained in oblivion until the beginning of the nineteenth century, time of the industrial revolution in Europe. The number of cars in factories demanded millions of tons of supplies. The industry set its eyes on the Amazon Forest of South America where he discovered large deposits of a great tree, the seringais, well known in Brazil that resulted in a cycle of gum or rubber (1827 to 1915), and the frenzied interest investors in Brazil and Europe.
However, Acre has not lost the wild nature of their territory, one of the largest and least populated areas of Brazil. The State of Acre is located south of the northeast of Brazil. It has an area of 153,149.9 square kilometers and it borders the states of Amazonas and Rondonia, as well as Bolivia and Peru. It has a population of approximately 557,337 inhabitants, a total area of 153,149.9 square kilometers, and 22 cities.
Today the buildings of the era of the "Cycle of Goma" in contrast with modern buildings. The natural and cultural attractions are the preference of visitors. There are a huge variety of walks. Worth visiting the Garden City, a major crafts center, which offers articles with material from the Amazon forest.
The city of Acre is the typical tourism history, nature and art that are worth visiting!
Related posts:
Leave a Reply