Salta is located well north of Argentina today is a highly developed tourist destination while retaining most of its innate nature. I invite you to visit this area of the imagination Argentina so then you make it happen.
Located in the north, is characterized by its fertile sites and a warm dry climate in winter and moderate in summer. You'll appreciate the Indian culture deeply rooted in any of the areas you go. As for the architecture you will find houses, historic monuments and very narrow paths that follow the shape of the mountain.
The circuit is very wide to travel because you have many options to go. The tours we recommend most strongly are: Cafayate, located at 183 km. City and you can watch the most important settlements Calchaquís Valleys. Conquista a strategic place in the draining three provinces: Salta, Tucumán and Catamarca, a situation that embellishes it with the contribution of various cultures allowing you to serve your visitors much more than natural price. The Train to the Clouds, is a ride that you cannot miss the feeling of going through the roof and feel on top creates unexpected sensations. The same architecture is complex and interesting to 1187 meters above sea level, and ends at the viaduct's Polvorilla the most anticipated installment, because it is where the train seems to climb to heaven. The characteristics of this viaduct are remarkable: it measures 224 meters long and 70 tall, weighs no less than 1600 tons, is curved and without handrails. After stops paths in each of the picturesque villages along the tracks, the train reaches the highest point of its journey: the viaduct "La Bomba" at 4000 meters above sea level. To finally arrive at the San Antonio Brass, the capital of the department of "Los Andes", located beside the famous "Hill Velvet. No doubt unmissable experience!.
There is also the modern cable car of San Bernardo Hill where you can enjoy a panoramic view of the city. San Lorenzo, seaside resort with ancient trees, ideal for walking and riding.
Close to jump you can visit the Quebrada de Humahuaca in Jujuy that this close is almost a mandatory stop. It is ideal to visit all year round but the moment that most stands out is for Easter where there are several outdoor events. Over the Quebrada Circuit found the Volcano village, the old chapel Tumbaya; Purmamarca craft fair and attractive.
Regarding the accommodation you can choose between hotels, lodges, ranches, camping, depends which is the idea of your trip and how you want to spend. Also do not worry because there are many places where to stay and not usually a problem. I recommend some hotels which have very good reference in terms of services and comfort: Plaza Hotel Salta, Hotel del Pilar, Cafayate Wine Resort, and if you want the data to a family lodge that will be considerably cheaper: The House of grandmother.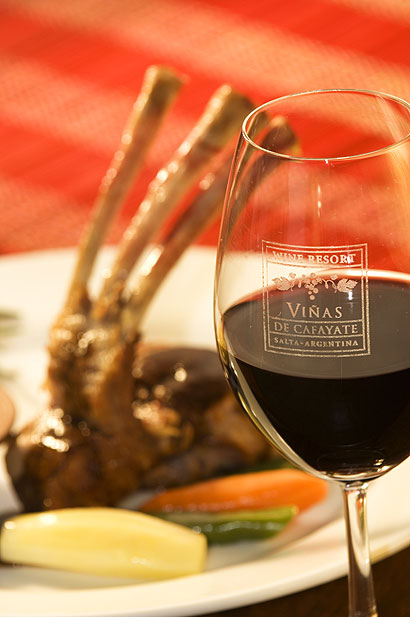 If we speak in Salta cuisine you are getting the most varied, ranging from typical salteñas empanadas (which are a classic of the region), through humitas, tamales and locro, to international cuisine. This region has a wide variety of restaurants and rocks where they lie exquisite taste dishes enjoying an excellent folk show. Among the basic components of these dishes can find items like corn, beans and meat, whether this vaccine, lamb, chicken or goat. Stews as the soup (made from beans, sausages, pork and vegetables, among other ingredients), the huascha locro (similar to the above but no meat) the stew (made from sheep entrails and blood) or stew of tripe with mote, are characteristic dishes of the cuisine of Salta. I recommend some places where you will find these dishes and more of the best quality and good price: Restaurant Jovi in Balcarce and Rivadavia. Specialty: Grill, Fish, Pastas and Pizzas. Barbecue in La Monumental Av Entre Rios and Vincent Lopez. Specialty: Grilled, Pasta. The corridor of pies at Caseros 117. Specialty: Pies, Humitas, Tamales, Loco and carbon. Tobias & Cafe in Caseros 515 – Specialty: Pies, Humitas and Tamales.
Another possibility that I'll tell you a lot is being done and adventure tourism and warrants that the landscape and the infrastructure is made so that makes it possible. You can do Mountain Bike: bikes travel great heights, multicolored hills and rough terrain they traverse the open The Acay (4980 meters above sea level) and El Condor (4000 meters above sea level) or the Cuesta del Obispo ( 3348 meters, maximum height). Rafting: The first, born in Dique Cabra Corral, reflecting pool surrounded by hills and mountains, distant 70 miles south of Salta Capital. Climbing in Salta: In your territory, offering little more than ten peaks with heights over 6,000 meters above sea level and a much larger number of summits of altitudes above 5,000 meters above sea level, many local the capital city of Salta. And either: well, you can live a Salta valleys, ravines, puna immeasurable, deep root Andean villages, pre-Inca invaluable testimony, a diverse climate and changing land heights ranging from 900 to over 4,000 meters above the Tues.
I hope all this information can organize a trip to meet northern Argentina, is sure to be a unique experience!
Related posts:
One Response to "Salta, the train to the clouds… discover nature in northern Argentina"
Posts about Mountain Bikes as of September 13, 2009 | Mountain Bikes Says:
septiembre 13th, 2009 at 10:11 pm

[...] is very limited: I've done three mountain bike races, all within a year of taking up the sport. Salta, the train to the clouds… discover nature in northern Argentina – villadeayora.com 09/13/2009 Salta is located well north of Argentina today is a highly [...]
Leave a Reply